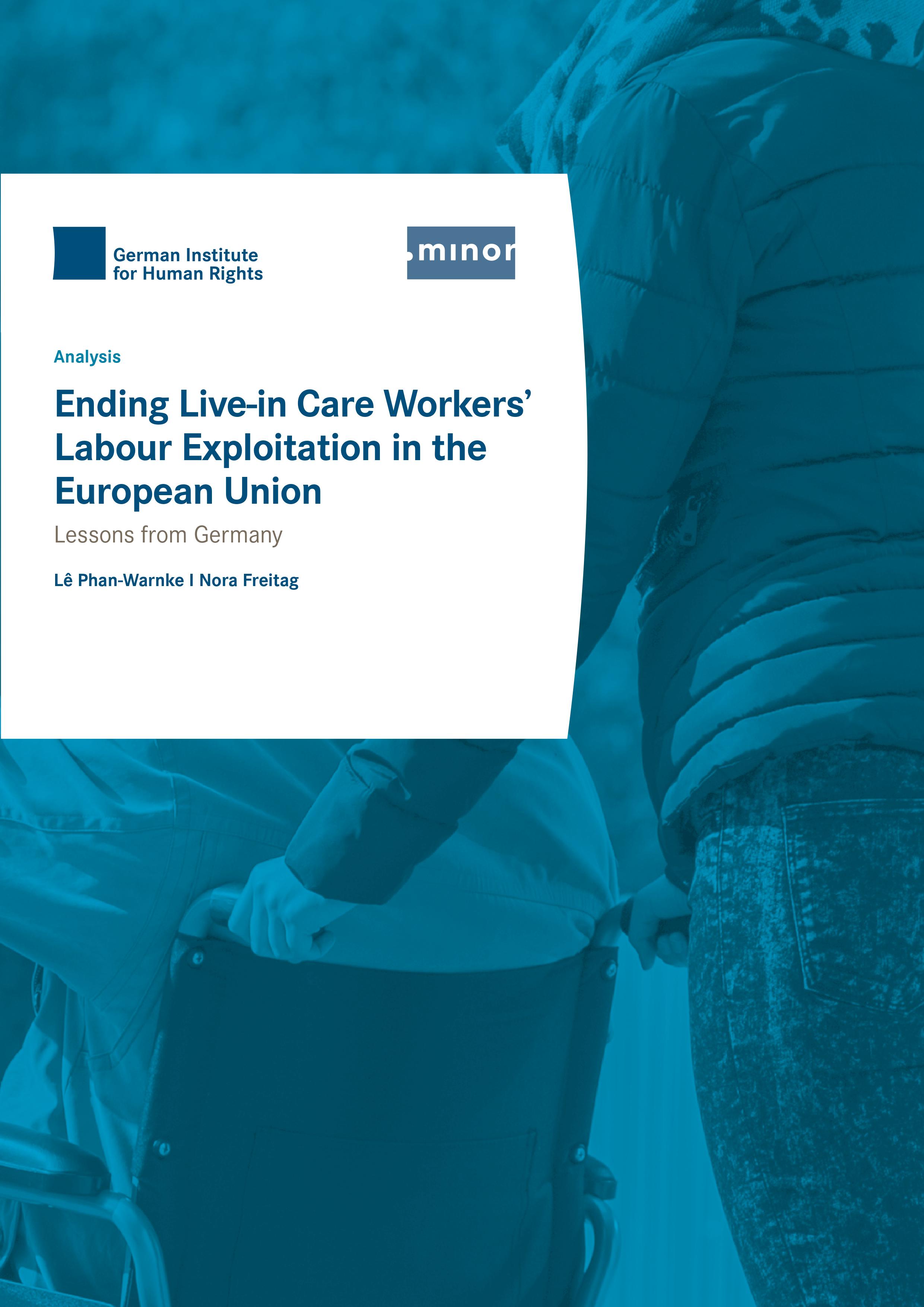 Ending Live-in Care Workers' Labour Exploitation in the European Union
Lessons from Germany
Nora Freitag, Lê Phan-Warnke, Oktober 2021
Several hundred thousand domestic care workers (so-called live-ins) are employed in private German households, who come to Germany temporarily to work and many of whom are affected by severe labour exploitation on a large scale. Lack of language skills, unmanageable working hours, frequently changing work locations, as well as fear of authorities resulting from their insecure employment status are the reason why they may experience social isolation. The regularly changing and at times very strict (entry) restrictions imposed to contain the COVID-19 pandemic have a considerable impact on the living and working conditions of Eastern European live-ins in private households in Germany, and this can further increase their social isolation. Thus, exchange with other caregivers, participation in life outside the workplace and especially the search for up-to-date information has shifted even more to social media. In times of the COVID-19 pandemic, it has become increasingly clear how fragile and unstable employment models based on exploitation are and how easily they can falter as a result of external, and often unforeseen, circumstances.
Since December 2017, the model project "Migration Counselling 4.0 – Good Work in Germany" (MB 4.0) by Minor – Project Office for Education and Research, which is funded by the Office for the Equal Treatment of EU Workers of the Federal Government Commissioner for Migration, Refugees and Integration, has been conceptualising and developing outreach information and counselling work in the preferred social media channels of EU immigrants in ten languages. Since July 2019, MB 4.0 has been supporting live-ins from Eastern Europe in exercising their rights. The expanded focus to include at least three more languages is currently being planned. In doing so, the project enables good access to the very hard-to-reach target group of 24-hour caregivers in Germany for the first time, by providing independent and legally verified advice where they communicate – on social media.
At the same time, MB 4.0 has set itself the goal of drawing attention to the grievances and existing exploitation of live-ins in order to help bring about necessary changes. As part of this, the German Institute for Human Rights was commissioned to produce an expert report in the form of processed model cases on the situation of Eastern European care workers in private households in Germany.
Diese Publikation wurde im Auftrag des Projektes Migrationsberatung 4.0 veröffentlicht.
Das Projekt wird von der Gleichbehandlungsstelle EU-Arbeitnehmer der Beauftragten der Bundesregierung für Migration, Flüchtlinge und Integration gefördert.